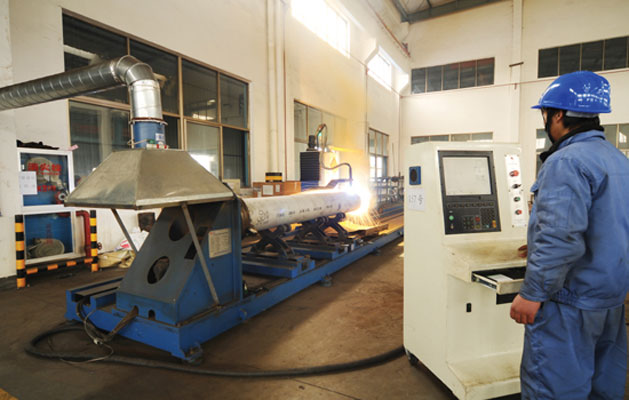 Duplex stainless steel (Duplex Stainless Steel, referred to as DSS), refers to the ferrite and austenite content of each accounting for about 50%,, generally less need to meet with the least 3O% of stainless steel.
Duplex stainless steel since the 1940s, was born in the United States, has been developed to the third generation. Its main feature is the yield strength up 400-550MPa, so two times the normal stainless steel, so you can save timber, reducing equipment manufacturing costs. In corrosion resistance, particularly media environment is bad (such as seawater, chloride ion content is higher) conditions, duplex stainless steel pitting, crevice corrosion, stress corrosion and corrosion fatigue performance was significantly better than ordinary austenitic stainless steel, high alloy can be comparable with austenitic stainless steel.
Duplex stainless steel Features:
Due to the characteristics of the two-phase structure, through proper control of chemical composition and heat treatment process, so that both ferritic duplex stainless steel strengths and austenitic stainless steel, austenitic stainless steel it has excellent toughness and weldability with iron high strength and resistance to chloride stress of ferritic stainless steel has corrosion combine, it is these superior properties make duplex stainless steel as a structural material can be welded developed rapidly since the 1980s and has become martensitic, Austria s size and ferritic stainless steel side by side a class.
Duplex stainless steel has good weldability, compared with ferritic and austenitic stainless steel, both HAZ Unlike ferritic stainless steels, due to severe grain coarsening leaving plastic toughness greatly reduced, but also unlike austenitic stainless steel as welding hot cracking sensitive.
Duplex stainless steel because of its special advantages, widely used in petrochemical equipment, water and wastewater treatment equipment, oil pipelines, papermaking machinery and other industrial fields, in recent years has also been used to study the structure of the bridge load-bearing areas, with good development prospects.